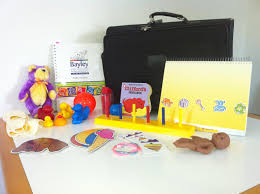 About the Bayley-III Neurodevelopmental Assessment
Your child will have a detailed developmental assessment on the Bayley Scales of Infant and Toddler Development (Bayley III). He or she will be asked to do a number of activities to see if your child's thinking, language, and moving (sitting, walking) skills are similar to children his or her own age. Some of the activities your child will be asked to perform will seem very easy while some of the activities will seem very hard. No child is expected to do well on every activity.
This assessment is appropriate for children from birth through to 3 ½ years. It is a validated and standardised that is widely used throughout the world. Within the UK and most NHS hospitals it is used largely for premature babies, but it also a wider application for all children, where there maybe concerns around development or to ensure peace of mind, that your child is developing age appropriately.
You will also be asked questions about your child's social skills (such as expressing emotions or talking with others) and behaviours (such as playing with others or dressing). These questions will help us find out your child's range of skills. No child is expected to successfully show every skill.
What does the Bayley-III measure?
The Bayley-III has 5 major parts that are tested with the child: Cognitive, Language (Receptive and Expressive) and Motor (Fine and Gross).
1) The Cognitive Scale looks at how your child thinks, reacts, and learns about the world around him or her.
2) The Language Scale has two parts.
* The Receptive Communication part looks at how well your child recognizes sounds and how much your child understands spoken words and directions.
* The Expressive Communication part looks at how well your child communicates using sounds, gestures, or words.
3) The Motor Scale has two parts.
* The Fine Motor part looks at how well your child can use his or her hands and fingers to make things happen.
* The Gross Motor part looks at how well your child can move his or her body.
The test can be tailored to specific concerns, where only one area is assessed (I.e. motor or language or cognitive)
Click on the short video link to see an example of one of the tasks in the test video_1 Fine motor
How long will the assessment take?
The assessment will take at least 1 hour and sometimes longer depending on your child (up to 90 mins). Please bring in a snack and a bottle of water .
What happens after the assessment?
A report detailing the assessment completed with a breakdown of all the results will be sent to you and your GP/referring consultant (if required). There will be a plan detailing if further action needs to be taken and suggestions and ideas to continue to encourage development through play. The outcome of the detailed assessment can be used to refer to any other health care professionals that may be needed.
What is the cost of this assessment?
The cost of the detailed of the whole Bayley Assessment is £375. If you decide to have your child assessed against one area (such as language or motor), the price will vary.
Insurance maybe reclaimed via invoice but payment is required at the time of consultation.