I gained a BSc (HONS) in Physiotherapy from the University of Manchester in 2002 and have been working in the physiotherapy field since then.
My specialist skills in paediatrics were discovered and mastered whilst working abroad at New York University, Hospital for Joint Diseases in 2006. Recently I have gone on to become a certified infant massage instructor, where I am able to utilise my paediatric development skills to teach new mothers about normal development whilst highlighting the many benefits of baby massage.
Click here for more info on baby massage classes
As well as New York (Hospital for Joint Diseases) I have worked at large London hospitals including Guys and St Thomas' Hospital (Evelina Children's) and Great Ormond Street Hospital since graduating from University. I have also spent time working on the acute paediatric ward and Special Care Baby Unit at Watford General Hospital and North Middx Hospital. In my spare time I continue to freelance and see patients privately.
I specialise in treating paediatric patients from the babies to adolescents with a variety of conditions. This includes gross motor developmental delay, head turning preferences/plagiocephaly, trauma and orthopaedics, juvenile idiopathic arthritis and hypermobility. My passion lies within development and understanding normal movement patterns through infancy and teaching parents about these movement patterns in order to encourage children to reach their milestones. My previous exposure to working with preterm babies and families, has highlighted my passion for working with this particular group of patients and focusing on early intervention to provide the best outcomes.
I use physiotherapy therapeutic skills to facilitate children to reach their full potential. Having recently become certified in Newborn Behavioural Observation (Brazelton) NBO and the Bayley Neurodevelopmental assessment, the concept of guiding development and building strong relationships between parent and child, begins from birth (this is especially relevant to babies born prematurely).
In my spare time I enjoy photography, cooking, travelling and actively working to promote and educate about organ donation.
I am a member of the following associations: Health and Care Professionals Council (HCPC), Chartered Society of Physiotherapy (CSP), Association of Paediatric Chartered Physiotherapists (APCP) and Complimentary Therapies Association (CThA).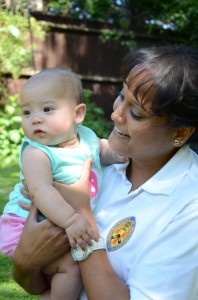 Swati Bhagat-Jones BSc (HONS) Physiotherapy, MCSP, SRP, CThA
Specialist Paediatric Physiotherapist
Infant Massage Instructor
HCPC and CSP registered
T: 07958780746
E: swati@instepchildrensphysio.com